Collaboration Agreement with Essent for sustainable hydrogen production
A great day for the energy transition in the Netherlands: As of today, Solinoor and Essent will collaborate on the development of sustainable hydrogen projects.

In 2022, Essent will start with the development of a hydrogen factory that runs on solar energy. The factory concerns a 5MW electrolysis installation that converts the sustainably generated electricity into hydrogen and residual heat. These are then delivered to companies in the connected region. The new hydrogen plant is being developed in collaboration with Solinoor, a specialist in renewable energy with focus on solar parks. With this collaboration, they are responding to the growing need for the local production and supply of green energy.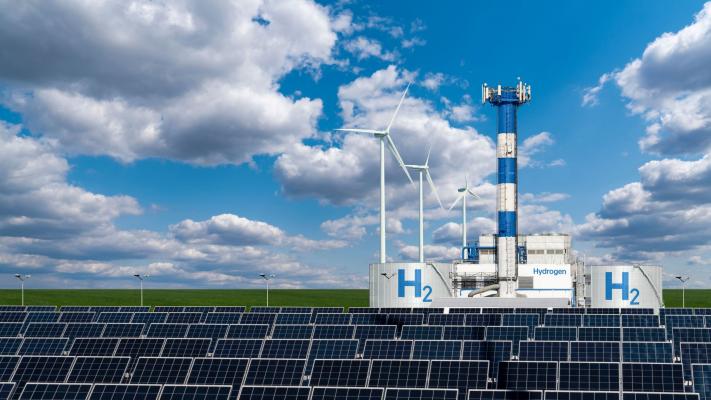 Stephan Segbers, COO of Essent: "Using hydrogen as an energy carrier is a major step forward in the energy transition. With EIS (Energy Infrastructure Solutions) we have been focusing for 1.5 years on developing cooling and heating networks and total solutions that include hydrogen. We believe that the energy transition requires a broad, integrated approach and that hydrogen offers great opportunities for industry, horticulture and the built environment. Not only in the city, but also in more remote areas.
Production and delivery
The hydrogen factory works in principle on solar energy. In order to guarantee the continuity of the operation, the possibility of falling back on wind energy in the event of a lack of sunlight will also be investigated. Another important point of attention is the limited transport capacity on the electricity grid, which means that there is a risk that valuable, generated energy will be lost. To prevent this, the factory will be equipped with a battery for temporary storage of the surplus of solar power that cannot be immediately converted into hydrogen or supplied back to the grid. It is the first project in the Netherlands in which a ground-based and floating solar park, batteries and an electrolyser are used for sustainable hydrogen production, while simultaneously solving grid congestion and ensuring a balanced energy network.
Opportunities for sustainability
Essent and Solinoor will also collaborate on possible solutions for supplying the hydrogen produced to local customers. This can be done, for example, via road transport or a direct pipeline. Vahid Kharidar, director of Solinoor sees all kinds of opportunities: "Green hydrogen is produced from sustainable electricity. Solinoor is developing solar parks throughout the Netherlands that can be used as an electricity source for the production of hydrogen. We believe that there is always a solution for our industry to move to 100% green energy, even when we have challenges with limited transport capacity on the grid. Essent and Solinoor go one step further and offer an integrated energy solution by using and offering different sources of green energy (solar, wind, batteries and hydrogen). Our capabilities in development, design, installation and investment fit in perfectly with Essent's role as an energy market leader. Together we have created a number of concrete opportunities to accelerate the energy transition in the Netherlands."
Hydrogen fuel cell
Green hydrogen is an excellent alternative to natural gas because only sustainable electricity and heat are released during production, so no CO2. However, there is also a cost involved. For some companies, the step to 100% green energy is therefore very big. That is why Essent and Solinoor also provide solutions to gradually grow towards sustainable business operations. The customer can choose to immediately switch to 100% hydrogen, but can also first use a mix of hydrogen and natural gas, and only switch completely to hydrogen later. In this way we help entrepreneurs to make the transition to a green future in a responsible, controlled manner.
Would you like to know more about these and comparable sustainable energy projects and what it can mean for your company? Please contact us here or send an email to info@solinoor.com, we will be happy to help you.