The demand for more grid flexibility
In the Netherlands there is a fast-growing demand for extra capacity on the energy grid, mainly due to the rise of the amount of solar parks. The amount of electricity generated by the parks is greater than the electricity grid can currently process. Energy supplier TenneT (toonaangevende Europese netbeheerder (TSO)) therefore announced a temporary shutdown for new grid connections in Friesland, Flevoland, Gelderland and Utrecht last year, while also looking for options to use the grid more intensively.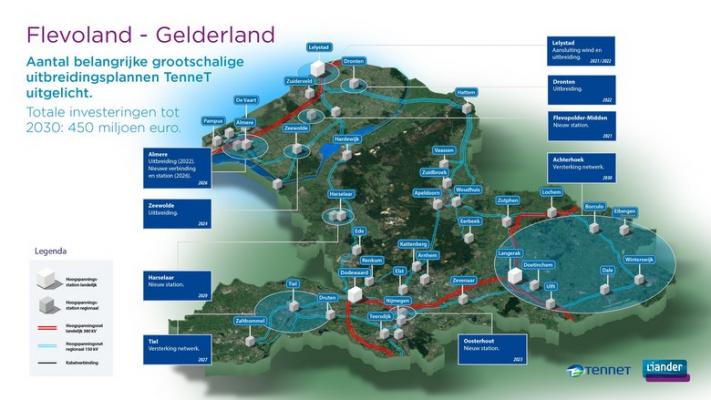 As part of their congestion research - aiming to find ways to use the grid more intensively - TenneT is currently looking for parties that can be flexible in their supply and demand in these provinces.

Solinoor has projects in both Utrecht and Gelderland, and can offer flexibility in its projects. By doing so we are making sure that our sustainable energy projects are utilized to the maximum. The energy generated by Solinoor can be used directly or stored for future use, by means of batteries or hydrogen. In addition, if the possibility is there, energy can be returned to the grid.

The use of flexibility by the parties is one of TenneT's measures to increase the amount of room for connections on the grid. The use of the emergency lane of the grid to connect more sustainable projects is also being considered. In addition, TenneT is working to strengthen the high-voltage grid. Additional connections and high-voltage stations will be realized and the network will be converted to facilitate all sustainable projects.

TenneT has already invested a record amount of 4 billion euros into the Dutch and German high-voltage grid in 2021. From 2025 on, TenneT expects this amount to grow to at least 6 billion euros per year.

Source: https://www.tennet.eu/nl/tinyurl-storage/nieuws/tennet-nu-ook-op-zoek-naar-flexibel-vermogen-in-friesland-flevoland-gelderland-en-utrecht/
Foto credit: TenneT