Energy Hub Neder-Betuwe
Next to our office in IJzendoorn, Solinoor is creating an innovative energy hub whereby renewable energy from floating solar is combined with an energy storage system to manage a sustainable energy supply for electric sand extraction activities, electric dike reinforcement, shore power for ships, charging of electric vehicles, and green hydrogen production. By combining a wide variety of factors, this requires an innovative approach to achieve a balanced and integrated energy system. Learn more about our approach on this page or get directly in touch with our energy experts.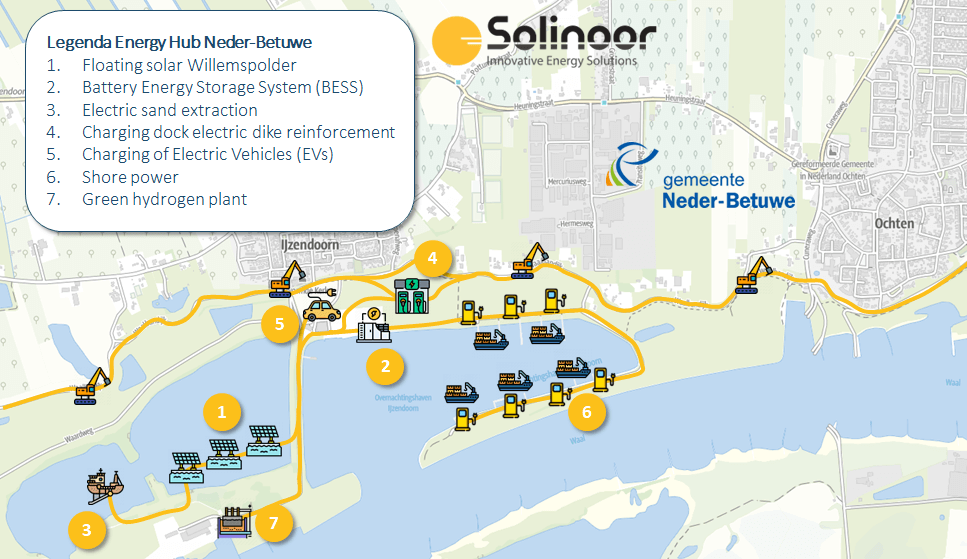 Solinoor's innovative approach
A floating solar park in the floodplains
While creating a floating solar park already has its own unique challenging aspects when compared to land or rooftop based systems, this project has additional challenges from the vibtrant environmental conditions of the local floodplains. Overcoming the challenges of dynamic water conditions, such as strong currents and fluctuating water levels of up to 8 meters, requires cutting-edge anchoring and stability technologies. This remarkable engineering feat not only contributes to sustainable energy production but also demonstrates adaptability in the face of unique environmental conditions with a pioneering endeavor in the field of floating solar.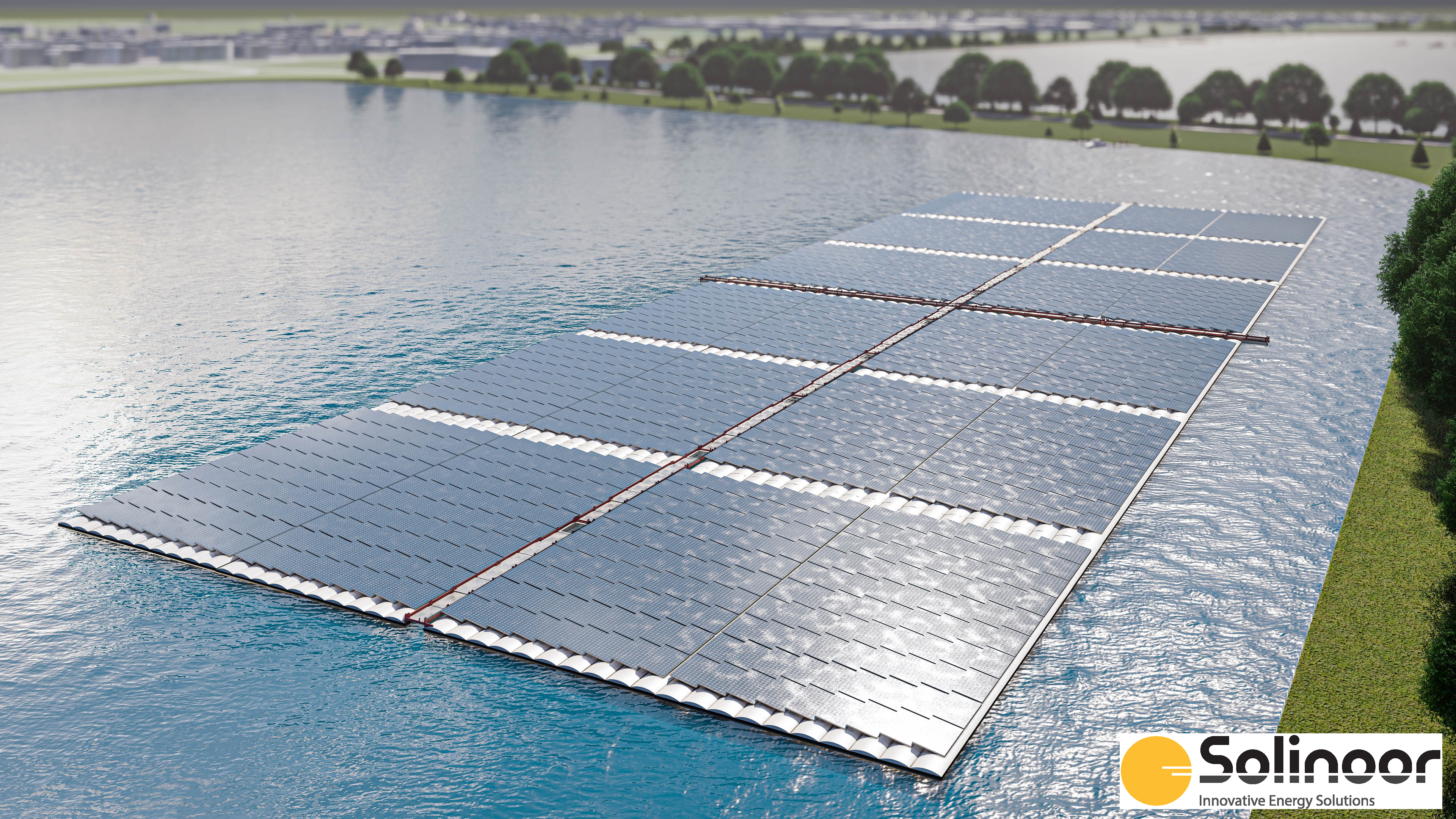 Powering multiple energy consumers
In the area, numerous activities and industries require a sustainable energy supply. Balancing the diverse energy consumption profiles of electric sand extraction (1), electric dike reinforcement machinery (2), shore power for ships (3), charging electric vehicles (4), and production of green hydrogen (5) showcases an innovative approach to energy management. This project's uniqueness lies in its integrated smart grid and energy storage solutions, enabling efficient allocation of electricity across various demanding applications. By optimising energy distribution, this initiative maximises energy utilisation and also contributes to reducing carbon emissions, making it a top-notch infrastructure design in sustainable energy systems.
A unique Energy Management System
Combining and integrating a diverse set of energy profiles
To optimise the energy production and consumption profiles requires a torough analysis. In a data-driven approach, with hourly insights & modelling, Solinoor has developed a tool to optimise the balance of the diverse energy profiles in a unique Energy Management system (EMS). Its ability to predict and respont dto changing energy needs ensures cost savings and a reduced environmental foodprint. By offering a blend of data analysis and modelling, the EMS sets a new standard in energy efficiency and sustainability for developing integrated energy systems.
Find out more?
Want to know more about this project or are you interested to see how we can contribute to saving money on high energy prices and transitioning to green energy in your project or business? Get in touch through the button below or send us an email at info@solinoor.com.